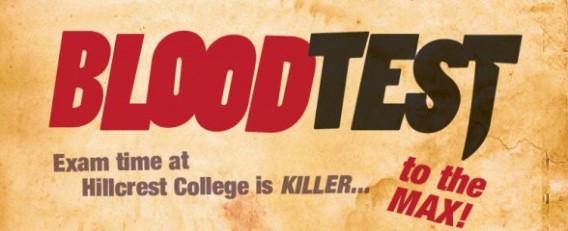 Slasher fanatics everywhere, rejoice – new boutique DVD company Hoa-X is releasing Deacon Natterling's unseen 1980 Canadian slasher Blood Test on April 1. It's final exam time at Hillcrest College, and someone is killing the students one-by-one using the most bizarre methods imaginable. It seems the victims were all part of a treehouse club when they were kiddies, until an initiation mishap left 12-year-old initiates Carl burned beyond recognition, Amelia with total amnesia, and Boner dead – or is he? Seven years later, someone is getting revenge.
The plot is pleasantly simple and it demonstrates exactly what we'd later come to accept as the elements of the basic slasher template: revenge for a wrong in the past, a central holiday or event, an isolated setting, unforgettable stalk scenes, an awesome Final Girl, and an iconic killer in The Freakazoid (remember this was the 80's) garbed in neon jumpsuit, shoulder pads, and blood splattered legwarmers that conceal his weapons. Karen (Bowie Knife Girls) Long as Amelia makes for one of the genre's most charismatic and resourceful Final Girls, giving Jamie Lee Curtis and Amy Steel a run for their money as she struggles to regain her memory in time to save herself and her few remaining living friends. What makes "Blood Test" so remarkable, however, is the direction by Natterling and the script co-written by Natterling and then-girlfriend Reilly St. John (later producer of TV's Bite Club) that creates a level of suspense and plenty of jump-out-of-your-seat scares that far surpass any other slasher film that I've encountered… and I've been around that bloody block a few times.
And bloody it is. The gore effects are by Gordon Temple, who died before the film was released, adding to the "Blood Test Curse" that the film's producers unsuccessfully tried to exploit in their advertising. Temple had only a handful of FX credits to his name (Death Hammer, Something Awful in the Dark), but those on display here are any slasher fan's wet dream.
One of the most remarkable aspects of Blood Test is the fact that some of its best scenes seem to have been "incorporated" into other, later and better-known slasher flicks. In one scene, several members of the college's football team load onto a single yellow floatable mattress in the school's Olympic-sized pool. Their float is interrupted when The Freakazoid emerges from under the water bearing a massive pair of garden shears and dispatches the entire group, slicing fingers and plunging the blade into throats. In another scene that would later be lifted elsewhere, a class goes on a tour of a nearby mine only to each be impaled on several showerheads, the water gushing out their surprised mouths creating a sort of "gore fountain". In yet another scene that will sound familiar to slasher fans, one of Amelia's unlucky friends goes for an ice skate in the school's hockey rink, only to be chased across the ice by The Freakazoid wearing a hag mask and sporting a scythe. It all culminates in the lecture theatre, as Amelia is surrounded by the bodies of her dead friends, their corpses poised to write their "final exam".
"Blood Test" was the only film directed by Natterling, his career another victim of the supposed "Blood Test Curse". Playing only a few screens when it was first released in April of 1980, the film fell victim to public protests from parents groups who felt that it "gave education a bad name". Though picked up for distribution by Canyon Films, the public protests proved too much for the company in terms of its reputation and in legal costs, and Blood Test disappeared. That is until Hoa-X picked up the DVD rights, readying the flick for its DVD/Blu-ray premiere 31 years after its theatrical debut. The home video release will feature the uncut Blood Test with the infamous "cheerleader pyramid vs. ride-on lawn mower" scene intact, as well as interviews with Long, Natterly and St. John, who claim to have a script for a sequel called Blood Test 2: Oral Exam that would see Amelia now dean of Hillcrest College squaring off against the Freakazoid once again. Let's hope this home video release generates enough interest in the original to see the sequel happen. In the meantime, get ready for the release of what I have no hesitation in calling "the best slasher flick ever made". I'm psyched, how about you? Now let's get ready to Par-tay with The Freakazoid! He's got a pair of garden shears hidden in his legwarmers with your name on them.