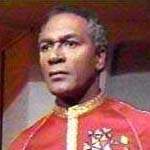 Percy Rodrigues was THE voice for slasher and horror movie trailers in the 70's and 80's. His work includes the trailers for Popcorn, Madman, The Dark, Deadly Blessing, Return of the Living Dead, the Jaws series, and many others. His deep, rich voice and dramatic pauses could make the dullest horror movie sound like the most horrifying film to ever hit theaters.
Rodrigues was born in Canada in 1918 and was of African, Portuguese descent. He acted in theater, film, and television for decades but it is his voice work that is best remembered by genre fans. Sadly, Mr. Rodrigues died in 2007 at the ripe old age of 89. Before he passed away, Rodrigues was interviewed for the Jaws documentary The Shark is Still Working, which is due to receive a theatrical release in May. As a fan of Percy Rodrigues, I'm looking forward to finally putting a face with the voice when I watch the documentary.
The following is a brief list of my favorite Percy Rodrigues lines. The . . . represent dramatic pauses.
1. "Now, just when you thought it was safe to back into the water . . .the legend continues." (Jaws 2) This is probably his most famous line as it crossed over into mainstream use for years.
2. "Popcorn. Buy a bag . . .go home in a box." (Popcorn) One of my all time favorite tag lines.
3. "It is as if God created the Devil and gave him . . .Jaws!" (Jaws)
4. "Madman. There is no escape." (Madman) Rodrigues did the voice work for most of Madman's tv commercials and those are very entertaining as well.
5. "None of man's fantasies of evil can compare with the reality of . . . Jaws!" (Jaws and Jaws 2) This line was so good that it got used in the trailers for the first film and first sequel.