I had a plan. T'was a fine plan – watch Silent Night Deadly Night parts 1-5 over the Christmas holidays. How hard could that be? They even had numbers on them so I wouldn't lose my way. Except it didn't exactly go to plan… in fact, it went out the door before I even started. Here's where I went wrong, but at the same time right.
1. Not watching Silent Night Deadly Night
I know Silent Night Deadly Night is the quintessential Christmastime slasher – it's got the killer Santa Claus and the 1984 theatrical release generated enough controversy to make the movie plenty famous, so much few that utter its name have even seen it. It's also a no-brainer we all default to when wanting to deviate from the norm of Hollywood holiday drama and hijinx. But I just couldn't go there this year. When I examine SNDN, it's actually a mean-spirited little film. The attack on the woman while her poor kids watch is probably the biggest example of this, but there's a whole heartless undercurrent throughout – between the filmmakers' exploitative intentions and the story's puritanical religious punishment tangent. And this is all fine – just any other time of the year. Call me a sissypants, but I like my Christmas entertainment to be a little less depressive.
2. Watching Silent Night Deadly Night 2 instead
Now we're cooking with baking soda! Silent Night Deadly Night 2 takes the best scenes from the original film (literally), and adds a sequel plot that veers into awesomely absurd territory (umbrella impalement, anyone?), which makes the nastiness of the original more palatable in this holiday period. Think about how subgenre-bending a slasher swapping sharp weapons for a cop's gun would have been in 1987. The movie takes on a crack-high, grandly epic feel as Ricky storms the suburban streets single-handedly blowing away everyone who crosses him. And those eyes, those bug-eyes, they're hypnotic – you can't help but get swept up in unknown actor Eric Freeman's on-screen mayhem. As for the footage reuse, by breaking chronology such as I did, one gets a new appreciation as a standalone "two-fer-one" movie. As it stands, the "highlights" make me wanna go back and watch the original sometime post-Xmas for the full film. Neat.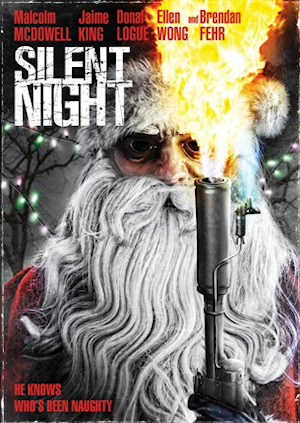 3. Watching the Silent Night remake
Ehh, what was I thinking? Generally I don't believe you should have to watch a movie to know you won't like it. If you've seen a lot of movies in your life you learn to trust your gut. But this one time alcoholic eggnog produced enough warm holiday spirits to give this low-fi redo a shot. A few minutes in and I was already groaning with regret. The Silent Night Deadly Night remake – simplified to Silent Night, presumably so as not to tax the brains of the target demographic – was pure shit on a candlestick that took more cues from the tired torture porn trend of yesteryear than the slasher flicks of yore. The only thing that truly links it to the original is that it's a cruel, cynical exercise in film-making. It has absolutely no heart. The original at least had sympathetic characters. Silent Night is no gift to slasher fans, instead it's a desperate crossbreed of the remakes to Black Christmas, Halloween and My Bloody Valentine. Garbage Day indeed.
4. Not watching the other Silent Night Deadly Night sequels
I was hoping to get the marathon back on track but after being burned by the remake, I wasn't really feeling for the rest of the Silent Night Deadly Night franchise. Let's examine: Silent Night Deadly Night 3: Better Watch Out (1989) takes another left turn with tone and tries to graft a more metaphysical arthouse sensibility onto a previously, alternately cruel and wacky storyline. At least it tried to be tangibly connected – Initiation: Silent Night Deadly Night 4 (1990) is a cult conspiracy (!) story with Christmas just tacked on. Silent Night Deadly Night 5: The Toy Maker (1991) could be a good time, but lamely recalls Halloween 3: Season of the Witch with Christmas toys instead of Silver Shamrock masks. The last two sequels go out of their way to disassociate themselves from the slasher genre completely. Interestingly, Clint Howard is featured in both of them as the creepy "Ricky", even appearing as Santa Claus in part 5. But is he the Ricky of the earlier films? No and yes – likely an executive obligation to feature the carry-over character.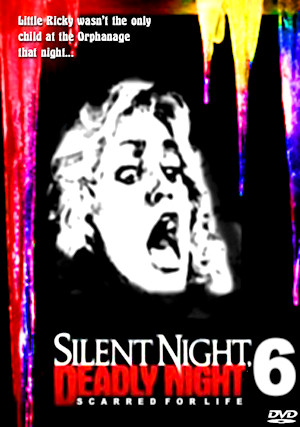 5. Watching Silent Night Deadly Night 6
Backed into a corner, I dug up the fake Silent Night Deadly Night 6: Scarred For Life. TV's Tales from the Crypt had an episode called And All Through The House in 1989 that did the job that Silent Night Deadly Night should have been doing: presenting a truly disturbing psycho Santa and exploiting the isolation and child peril that Christmas eve can stir up in the mind. An enterprising fan remixed it with Silent Night Deadly Night footage to create this short subject. The cypher like heroine and villain of the episode were reconfigured into Chrissy and Andrew, two more traumatized tots present at the same climatic orphanage shootout that launched Ricky into crazy status, now grown up and one stalking the other on Christmas night. Oh boy, the continuity works like a charm. I'm pretty much past the point of caring if a movie was either shit shoveled up by a faceless corporation or sneakily put together off the radar in some fanboy's basement. Bottom line, Silent Night Deadly Night 6 achieved what most of the official sequels couldn't.
The Results
My atypical Silent Night Deadly Night marathon turned out to be far more unique and entertaining than the vanilla route could have been. There were more thrilling highs than crashing lows – yet I only ended up watching one real movie in the series. The only thing that would make next Christmas better would if the Silent Night Deadly Night 2 8-bit game actually existed in playable form. I can dream…