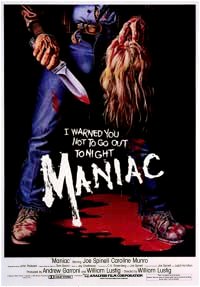 Even after such realistic films like The Texas Chainsaw Massacre and Last House on the Left made their way through the grindhouse circuit of the 70s, audiences still couldn't have prepared themselves for one of the most violent films of the 1980s. Yes, Maniac proved to be one of those films that actually lived up its controversy.
Frank Zito (a tribute to Prowler director Joseph Zito) is a deranged lunatic. When he's not idling away his time talking to the several mannequins with whom he co-habitates, he's scalping young women on the city streets of New York. He's not without remorse, but he's also seems to lack the restraint he needs to stop himself. Enter Anna D'Antoni (the beautiful Caroline Munro), a hot fashion photographer who catches Frank's eye. She seems charmed by him, but remains completely unaware of his devious lifestyle until she joins him on a trip to visit his abusive mother's grave.
Met with protest upon its initial release, Maniac has stood the test of time. In the wake of such realistic fare as Henry: Portrait of a Serial Killer and the more recent Dahmer, Maniac is now being heralded as a bold step in filmmaking and Joe Spinnell is finally getting his dues for his harrowing portrayal of a serial killer. No doubt its unrelenting showcase of atrocities is sure to make the Scream generation tremble in their boots -just check out the scene where Tom Savini blows off his own head! But this movie wasn't made for them.
Even Joe Spinnell felt the weight of the controversy. While planning a sequel, he decided to make the Maniac character a vigilante who protected children from their abusive families. Andrew Vachss would be proud! Unfortunately, Spinell died about six weeks before filming began. A glimpse of what he was shooting for can be found on the DVD – footage directed by Buddy G. (Combat Shock).
I highly recommend Maniac to anyone who likes to see films that are made on the fringe of Hollywood.