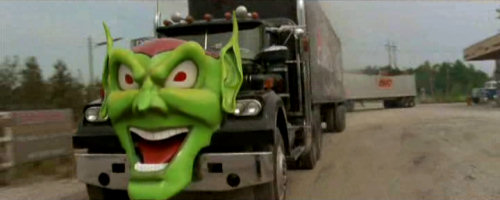 Not to be confused with quasi-slashers, which are movies with vague slasher elements (in which case, I'm pretty sure every single horror movie and serial killer thriller would be valid), slasher-hybrids are films that specifically combine the slasher film with an outside genre but can exist in both worlds on their own merits.
One example is Without Warning (1980), which uses the slasher structure to a T – random killings, bodies stashed to be discovered by the heroes, prime whodunnit paranoia – but drops in an alien monster (played by Kevin Peter Hall, who would later play pretty much the same role in Predator!). Another example is Silent Rage (1982) starring Chuck Norris, where The Beard fights an indestructible proto-Terminator who keeps on coming back. This one combines action elements within a slasher framework – and yes, there's roundhouse kicking. And hopefully I don't have to tell you about the incredible Maximum Overdrive (1986) directed by Stephen King – a slasher movie where trucks, vehicles and even a soda vending machine are the killer! Thank the lord Stevie boy was nose-deep in coke or that flick wouldn't be nearly as goofy and awesome.
Some movies even attempt to combine multiple types of film, like Future Kill (1985, review) which uses a chase movie scenario to bolster its slasher trappings, while also integrating post-apocalyptic styled mayhem.
With hybrid-slashers, it's the mish-mash of separate genres that make for fun watching. We plan on offering reviews and articles from our senior writers that will bring to light some of these combos. By no means will June necessarily feature only slasher-hybrid coverage, but I was looking for a way to provide more consistency instead of segregating our top contributions to the small window of theme weeks. We'll give it a try, anyhow.
What are your favorite slasher-hybrids and what genres do they criss-cross?

http://www.youtube.com/watch?v=lqz2rejJS6M